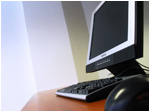 Crescent Future Kids is a Zambian organization providing computer literacy services to primary, secondary and institutions of higher learning. CFK has entered into an agreement with the Government Republic of Zambia, under the Ministry of Agriculture & Cooperatives, Ministry of Education and the Ministry of Health, to set up and facilitate computer laboratories in their respective learning institutions country wide. This shall be done at NO cost to the institutions; nevertheless the clients (students & pupils) of that institution will contribute a minimal user fee to sustain the computer lab .
Crescent Future Kids was registered in Zambia on 4th June 2003, with a primary objective of enhancing computer literacy in Zambia. Its main aim is to promote child computer literacy from as young as five years old by setting up computer laboratories in schools at NO cost to the School.
The targeted participants in this program are school going children from the age of five years up-to the level of graduating college students. The program runs on a contributory system, i.e. participants or users of each particular institution contribute a minimal user fee to enable it meet the necessary costs of repairs and maintenance of the computer lab.